After more than a hinge year (September 2021 - November 2022) officially restructuring with the strategy of a Multidisciplinary and Sustainable University, UEH today with 46 years as the foundation and the driving force is Ready to transform into a Multidisciplinary and Sustainable UEH of Tomorrow "UEH - Ready for Next".
More than 80 activities, including international keynote speakers, special sessions, oral presentations, workshops, talkshows, Tech-design, sustainable exhibitions, fashion shows, media art, classical music performance, and technical tours… are organized by UEH, incorporate more than 20 organizations all over the world.
All activities are pivoted around tech and design sustainable development goals and categorized into four main international conferences: Sustainable University Development: Opportunity and Challenge - SUDOC, Resilience by Technology and Design - RTD; Future Resilience through a Smart City Lens, Arttech Fusion
The College of Technology and Design (CTD) of the University of Economics Ho Chi Minh City (UEH), together with universities worldwide, organizes the international conference Resilience by Technology and Design (RTD). This is the first international meeting in a series planned by CTD to occur every two years. The RTD-2022, with the theme Smart Living, serves as a forum for discussion on how to strengthen the resilience of communities using technology and human-centered design to achieve sustainability for all, and in parallel, promotes the integration of digital technology innovations and advancements in various facets of human life and business. Furthermore, it wishes to provide a space for facilitating open cooperation between diverse actors to gain multidisciplinary engagement and sustainable development.
Let all of us join hands together towards creating a modern, smart, sustainable and humane civilized community!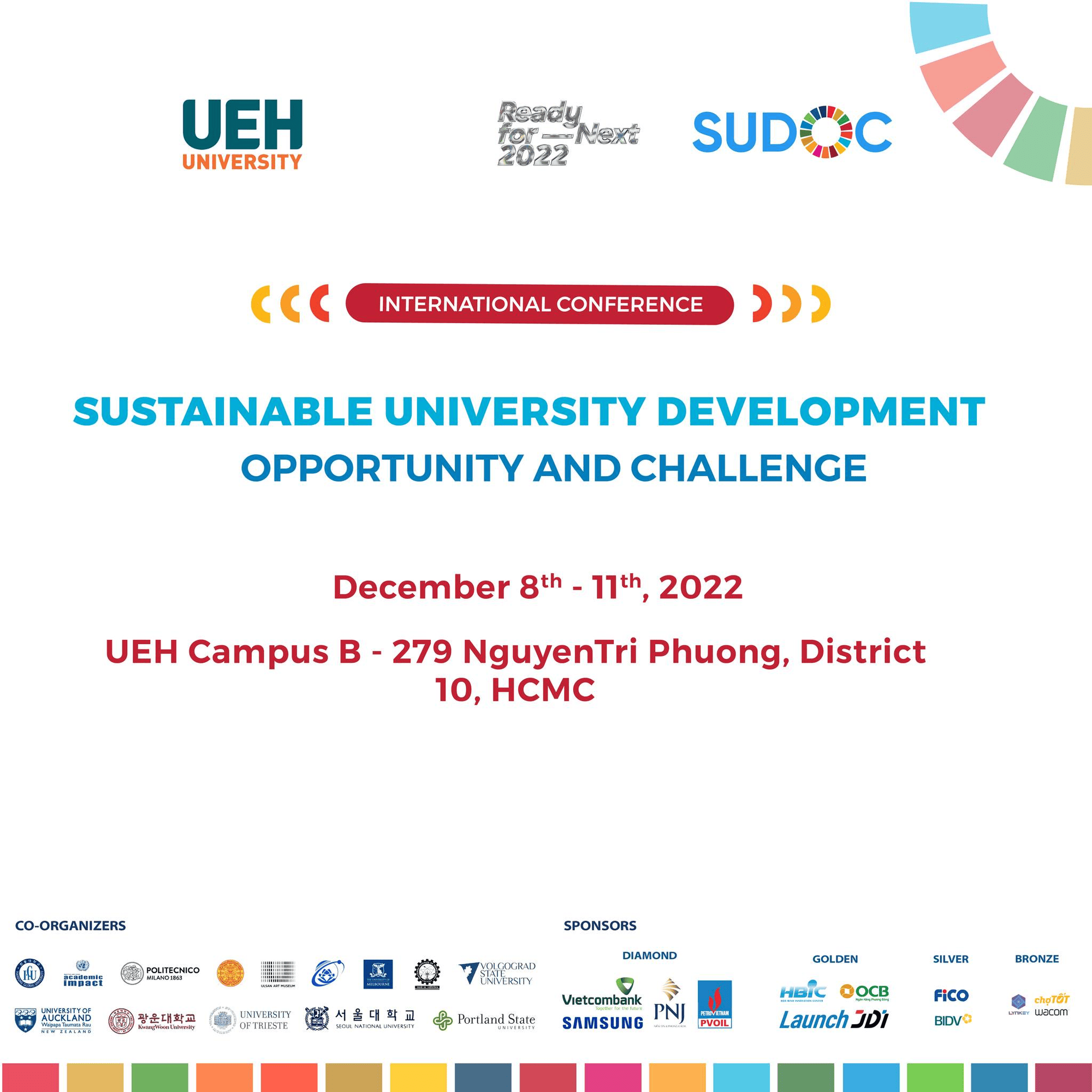 Sustainable development has opened up many opportunities but brought about challenges as well. In this progress, the role of higher education is focal, particularly in connecting all relevant stakeholders. In promoting that, the University of Economics HCMC (UEH), in collaboration with local and international partners, is organizing the international conference "Sustainable University Development: Opportunity and Challenge (SUDOC)" 2022 as a response to the call to act on sustainability, especially in the context of the world's recovery from the COVID 19 pandemic.
—————
The SUDOC 2022 is a forum to discuss the necessity of sustainable university development, pillars and standards of sustainability in universities, models to execute, as well as solutions to promote the role of higher education in practicing sustainability through its core activities: education, research, operation, community connect, and governance. The conference is believed to provide a platform for sharing, networking, and partnering. You can find helpful information and knowledge at the conference through research findings and the network of participants who share an interest in acting on sustainability. It is also a chance for scientists and local and international experts to discuss and collaborate to successfully implement the 17 Sustainable Development Goals (SDG) initiated by the United Nations for a sustainable future in 2030.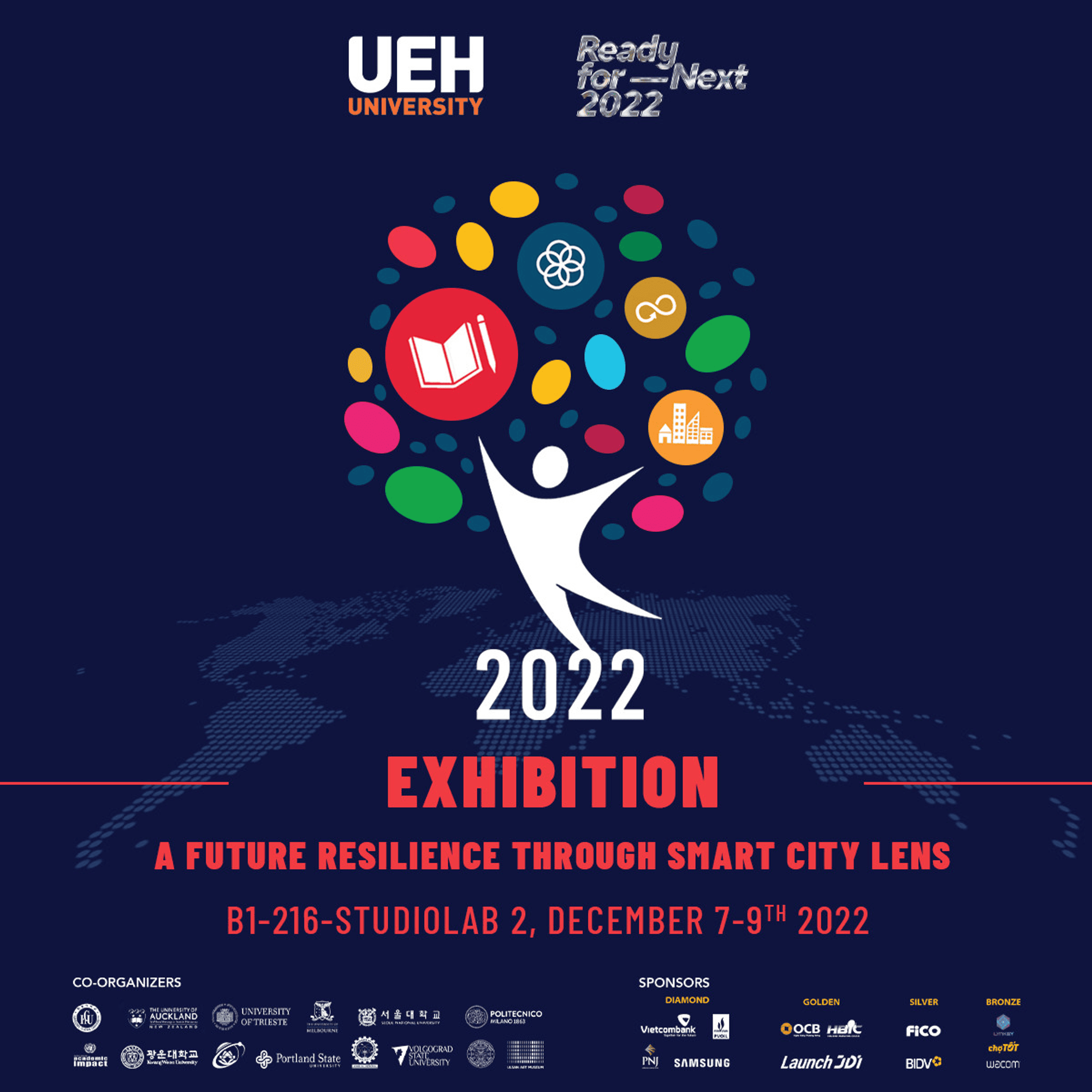 For the second consecutive year of the global pandemic, the coronavirus has infected and spread to every corner of the world. According to the United Nations (UN), cities have been recorded as the hardest-hit areas, constituting approximately 90% of all COVID-19 reported cases. Even though many towns and cities were already struggling to deal with concerns such as pollution, food insecurity, unemployment, or insufficient housing before the disease hit, the pandemic has worsened these challenges and resulted in a severe drop in local, regional, and worldwide economies. At this critical moment, the global community needs to make great efforts to foster a green, inclusive, and resilient recovery from the current crisis, especially in the cities.
By taking the above idea, in the year 2022, the Institute of Smart City and Management of UEH has created a wide range of activities regarding the topic "A Future Resilience Through Smart City Lens". With a strong focus on smart city development and technological and digital applications, the selected main themes for the series are Smart Education and Smart Living. Furthermore, having been inspired by the UEH sustainability project, the UN Sustainable Development Goals (SDGs) have been incorporated into the upcoming events and programs, as we believe they are the right compass for achieving resilience and sustainability in urban areas.
Following the success of the 2020 and 2021 events, the primary activities will be educational and research-based, which are workshops, seminars and webinars, as well as research and projects, all of which are detailed on the following pages. The remarkable thing is that the events in 2022 will include a large number of students from both within and outside UEH. We strive to empower youth by encouraging them to develop new skills, confidence, and connections. Additionally, the youth are the generation that has the greatest and most positive effect on community activities, thus successfully spreading the messages of sustainability and resilience.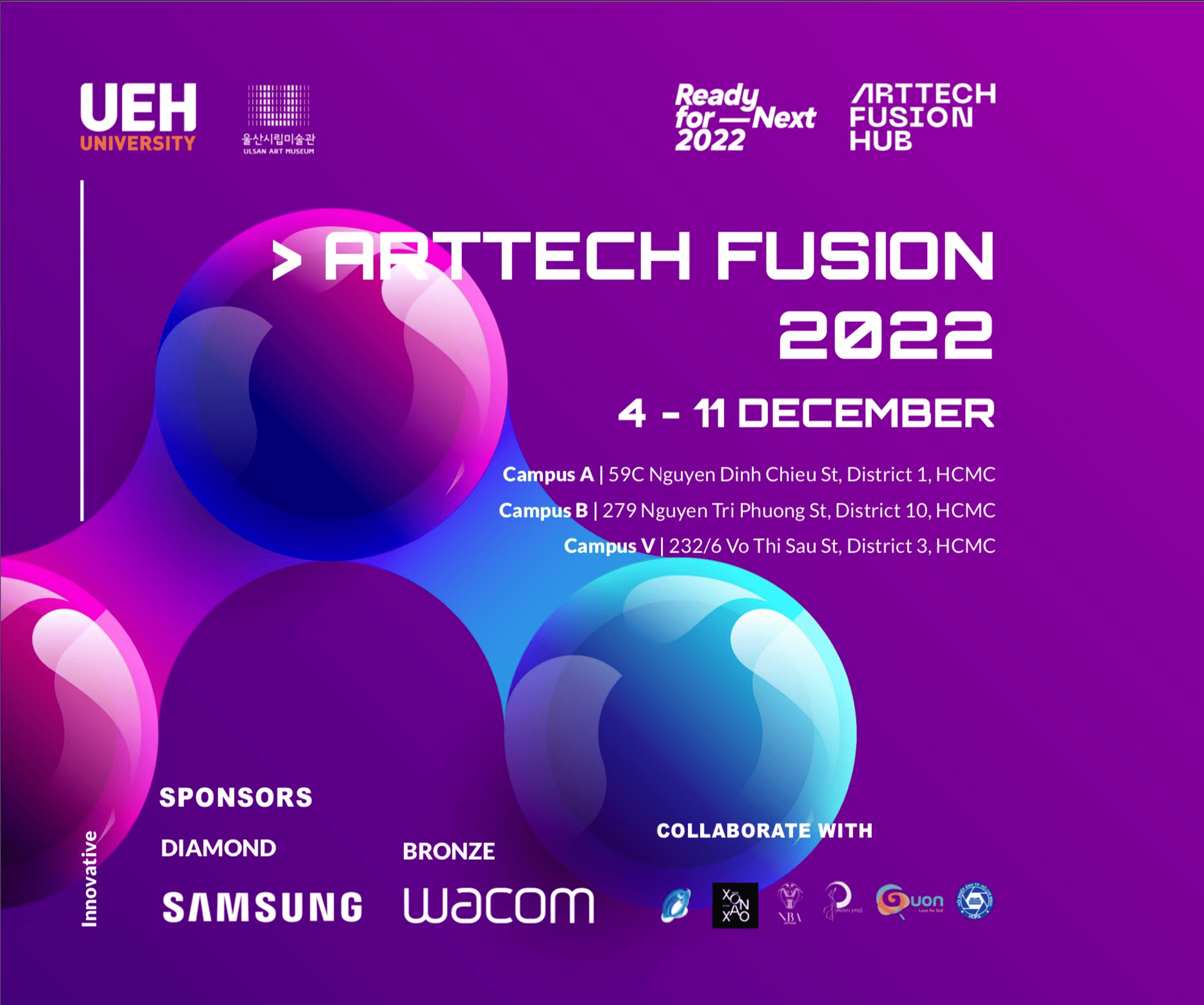 ArtTech Fusion - ATF is an annual international conference that includes a series of academic events, workshops, talkshows, and exhibitions about cutting-edge art and technology with a theme that changes every year. The theme of ATF 2022 is called: "Smart Living - Changing lifestyle to act for sustainability through ArtTechLens" to convey the message: Smart life: Changing lifestyle for sustainable development through ArtTech's lens.
The conference aims to introduce educational and research activities in the field of ArtTech, create connections between a number of domestic and foreign universities, scientists, professional networks and businesses in the field of ArtTech.
ATF also aims to promote awareness and share experiences of the community of students, scientists, managers, and businesses in the field of ArtTech. Promote the use of ArtTech as a tool to solve the problems of modern society, towards sustainable development, and build an innovative environment on the aspects of art and technology in today's society.